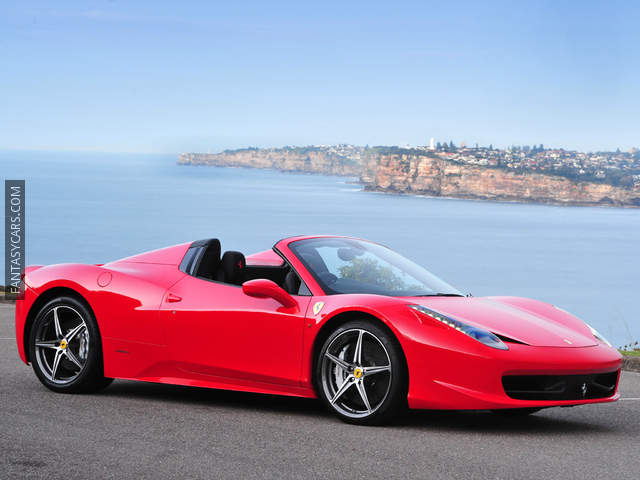 The 458 Italia is a multi-award winning sports car developed by Ferrari that showcases the brand's Formula 1 racing experience.
The 458 is presented with such charisma in its fluid and aerodynamic shape that has branched from the Italian automaker's traditional designs, but remains unmistakably Ferrari. The 4.5 litre V8 is the first Ferrari road car engine to utilize direct fuel injection which generates 562 hp along with 398 lb-ft of torque with no option of a manual transmission. A Formula 1 inspired dual clutch 7-speed marks the 458 Italia's official 0 to 60 acceleration at 3.3 seconds and a top speed of 202 miles per hour. Superb handling is attributed to a strengthened suspension system, electronic differential and F1-Trac traction control. To keep with the Formula 1 theme, the interior has been designed in collaboration with Ferrari's own former Formula 1 driver Michael Schumacher. Many controls that are traditionally seen on a dash have been relocated to the steering wheel to provide drivers with more race-car like controls.
Since its unveiling in 2009, the 458 Italia has captured many "Car of the year" awards which represents its success among both the public and critics alike. Ferrari has outdone themselves with what is undoubtedly one of the most exotic cars on the market today.
See more: Ferrari 458 Photos, Ferrari 458 Technical Data