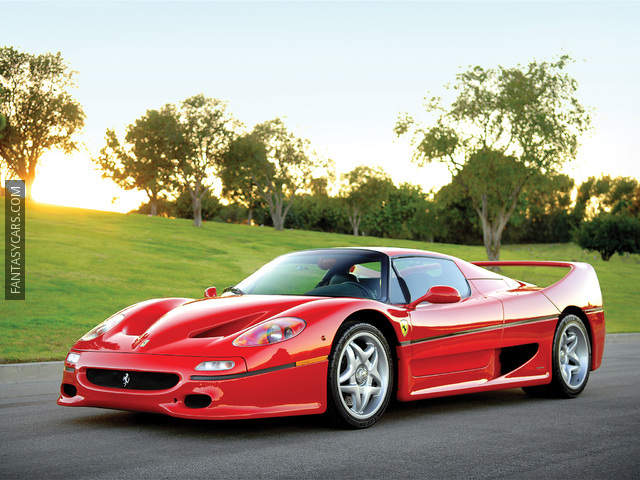 The Ferrari F50 was designed to commemorate Ferrari's 50th anniversary in 1996.
Typically low-slung with huge forward air intakes, sleek lines sweeping gracefully up to the rear airfoil and aerodynamic slopes behind both seats, the F50 is part Batmobile, part ballistic missile.
The 12-cylinder, 4.75-liter, rear-mounted engine slams out 520 horsepower, flashing the car from 0 to 60 miles per hour in 3.7 seconds and taking the carbon-fiber body to a top speed of 203 mph.
Only 349 F50s were made. "Our studies showed a market for 350 cars like this," says spokesman Antonio Ghini. "But Ferraris are something cultural, a monument. They must be hard to find, so we will produce one less car than the market.
"We have in 50 years of racing won every kind of victory: Formula One, Le Mans, Dayton, Sebring," President Luca di Montezemolo said in an interview. "In this car we put 50 years of know-how." But he said the F50 is the first and last car Ferrari will build based on a Formula One engine because of tougher emission standards going into effect in the next few years in the United States and elsewhere."It will be impossible to do it again," he said.
See more: Ferrari F50 Photos, Ferrari F50 Technical Data