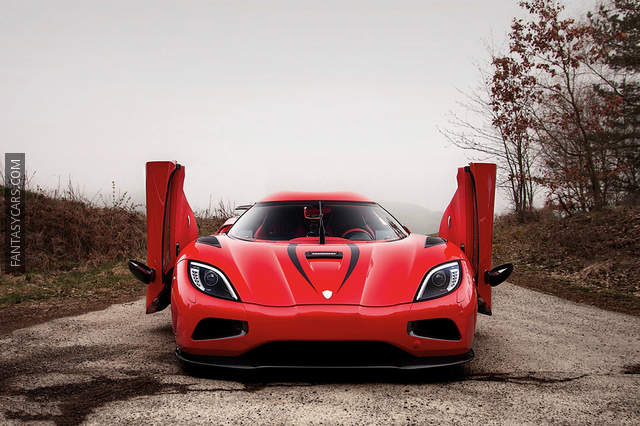 Agera is a Swedish term meaning "to take action" and is also the name of a hypercar that Swedish car manufacturer Koenigsegg released in 2011 as the successor to the CCX.
Both the name and meaning go hand in hand as the Agera is a groundbreaking marvel of engineering. The lightweight and aerodynamic body is made from carbon fibre and Kevlar, and features a removable hardtop that can be stowed away under the hood. The chassis features integrated fuel tanks and is also constructed with carbon fibre along with aluminum honey comb reinforcement. The signature "dihedral syncho-helix" door system makes a return along with other features including a carbon nano tube illumination system known as ghost lighting within the interior. The Agera sports a new and improved 5.0 litre twin turbo V8 that produces a massive 940 hp and 810 lb-ft of torque! The engine has also saved weight by using an all aluminum construction along with a carbon fibre intake manifold and is coupled with a 7 speed dual clutch paddle shift transmission. Accelerating 0 to 60 is accomplished in 3.1 seconds and the powerful engine can propel the Agera at astonishing speeds over 250 mph. It may be surprising to know that a bio/fuel version of this model was made in the Agera R that can out perform the regular model. It is not only one of the most expensive cars in the world with a price tag over 1.5 million dollars, it is also one of the top 5 fastest production cars capable of reaching a staggering 260 mph.
It is no wonder Top Gear Magazine deemed the Agera 2010's "Hypercar of the Year".
See more: Koenigsegg Agera Photos, Koenigsegg Agera Technical Data