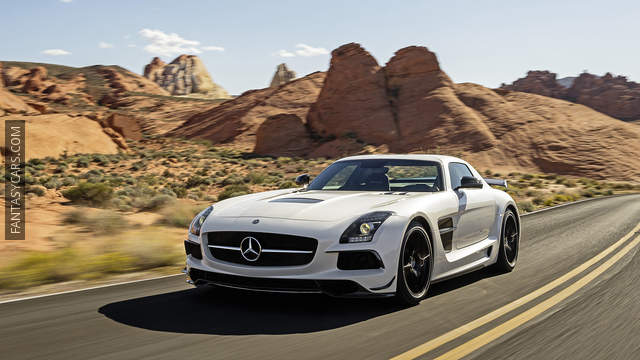 The Mercedes SLS AMG is a grand touring sports car developed in 2010 to succeed the Mercedes-Benz SLR McLaren.
The SLS (Sport Leicht Super or Sport Light Super) is the first Mercedes-Benz to be designed solely by their high-performance division AMG. Production for this model was only meant to last 3 years so Mercedes has decided to produce one last version and it all ends with the 2014 "GT Final Edition". Only 350 units were made available both in a coupe or roadster body style. The exterior features an exposed carbon fibre hood and rear spoiler along with the attention grabbing gull wing doors. The gray interior is beautifully designed with leather upholstery in a diamond pattern with a lighter contrasting stitching and seat belts finished with carbon fibre trim. Under the hood is a naturally aspirated 6.2 litre V8 that can deliver 583 bhp and 480 lb-ft of torque mated to a 7 speed double clutch gearbox. This grand touring coupe can perform 0 to 60 acceleration in 3.7 seconds and reach a top speed of 199 mph.
With production coming to an end, Mercedes is sending off their SLS line in a great way.
See more: Mercedes SLS Photos, Mercedes SLS Technical Data