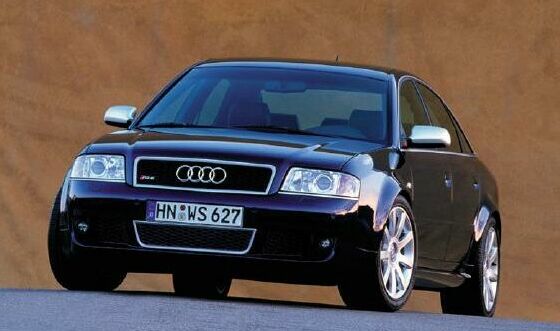 Mercedes
offers 349 horsepower in its E55 AMG?
BMW
will give you 394 with the
M5
? Then
Audi
will produce 450! And so we get the RS6, a two-ton beast powered by a schmoozed-over version of the 4.2-litre 5-valve V8 used in the S8, featuring two turbochargers with twin air-to-air intercoolers, modified cylinder heads for better cooling, sodium-filled exhaust valves and freer-flowing intake and exhaust. Once out of their stables, the 450 horses pass through a 5-speed automatic transmission as featured on the A8 W12 (also on the site), which incorporates shift paddles behind the steering wheel, the closest thing that will ever be offered to a fully manual transmission. There is quattro awd (the car is built by Quattro GmbH for Pete's sake!) which routes the power down to the 255/35ZR18 tires.
Audi
's glorious overkill (at least until the RS6 is outdone by the next contestant) will leave your mouth watering: 0-60 mph in 4.6 seconds and 0-125 (I'm sure this little tidbit of information will come in very handy in your daily commute) in 17.8. So, yes, it's faster than the M5!For those who demand an extra bit of recklessness,
Audi
is happy to oblige with the Avant-only RS6 Plus, which puts out 480 horsepower (473 by North American measurements) thanks to a reprogrammed ECU and two additional radiators behind the intercoolers. Among other things, the RS6 Plus also features variable shock damping, firmer spring/damper settings and a 10 mm reduction in ride height. Finally, the speed limiter has been increased to 174 mph, which is sure to delight the boys in Munich and Stuttgart.When you need to slow down, there are 8-piston Brembo calipers biting down on 14.4-inch pies in the front, with single-piston 13.2 inchers in the back. The RS6's suspension also impresses with Dynamic Ride Control (DRC) which is an all-mechanical spin on
Mercedes
' electronically controlled ABC active suspension. Hydraulic lines connect diagonally opposed shocks through a central reservoir, so that fluid can move around the car to selectively change the damping characteristics of the various corners. For instance, in an aggressive cornering manoeuvre, as hydraulic pressure in the shocks on the inside of the corner is reduced, hydraulic fluid and pressure move the diagonal outside shocks, stiffening them to reduce roll. On a fast, sweeping stint, the RS6 is very, very hard to catch, but on slower, tighter sections it is awkward and prone to understeer.Keeping 4200lb of
Audi
on the road is also taken care of by ESP, EBD, EDL and a bunch of other acronyms, as on the RS4. One of the main differences between this "R" and the RS2 and 4 is the appearance of a sedan in the lineup, besides the familiar Avant layout. In North America it will be the only variant offered. Inside there is carbon fibre trim, special sports seats, electrically operated and trimmed with leather and Alcantara, air conditioning, electric windows and mirrors, CD player and optional satellite navigation, in-car television, and built-in cellular phone systems. Outside, save for new intakes for the intercoolers and the large twin exhaust tips, the RS6 looks very much like an A6. There will be 860 RS6s available when the model is introduced in North America, at a base price of under $85,000. - by Traian Popescu
See more: Audi RS6 - RS6 Plus 2003 Photos, Audi RS6 - RS6 Plus 2003 Technical Data