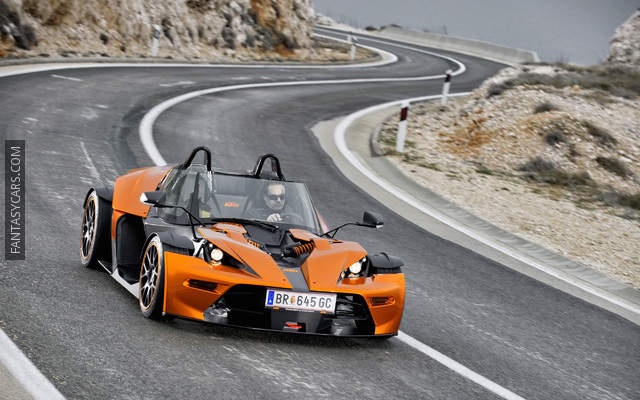 Austrian motorcycle company KTM takes the thrill of open road motorcycle riding and fuses it with a car to create their first product line, the X-Bow.
Pronounced "crossbow", this lightweight sports car was unveiled at the 2008 Geneva Motor Show and generated huge buzz with an incredibly radical design. This sports car makes minimal use of body paneling that provides a free and pure driving experience much like a motorcycle. The same can be said with the open cabin that is surrounded by gorgeous carbon fibre. At just over 1800 lbs, the X-bow is more lightweight and agile than most compact sedans on the market. Hug the road and corners with massive down force and superior handling that takes the driving experience to another dimension. The X-Bow is powered by 4 cylinder 2.0 litre turbo engine designed by Audi capable of producing 237 hp and 230 lb-ft of torque. It can accelerate 0 to 60 in 3.9 seconds and reach a top speed of 134.9 mph.
A car this unique created a surprisingly high demand that led KTM to produce double the original 500 planned for production along with the construction of a new manufacturing site. KTM has successfully debuted their first sports car with performance you can both see and feel.
See more: KTM X-Bow Photos, KTM X-Bow Technical Data