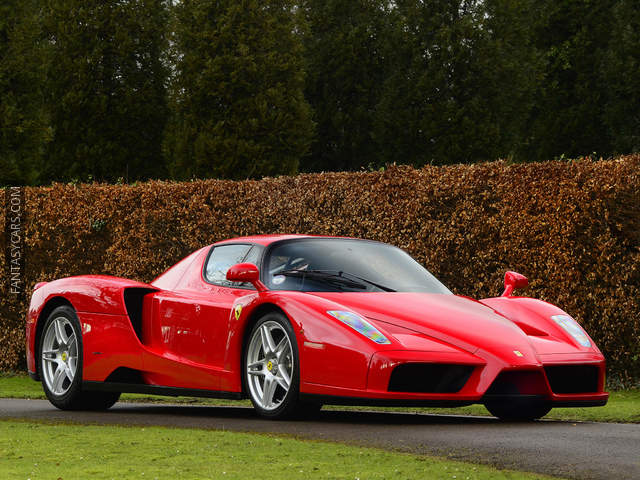 Ferrari's knowledge and experience with Formula 1 has led to the development of one of the most cutting edge and recognizable super cars, the Enzo Ferrari.
Placing the model first and make last is no accident, it is named and read that way to honour the owner and founder of the brand. The Enzo's body was designed by former Japanese head designer Ken Okuyama who took styling cues from the F40 and F50 and sharpened them to create an even more aggressive and aerodynamic version of its predecessors. Underneath the carbon fibre exterior lies a naturally aspirated 6.0 litre (5998 cc) V12 engine that produces 651 hp and 485 lb-ft of torque with additional features such as variable valve timing and Bosch Motronic fuel injection. The mid mounted engine is coupled with an F1 style gearbox that notifies the driver (by use of LED lights on the steering wheel) when to shift gears. 0 to 60 acceleration is done in only 3.14 seconds and the Enzo can reach top speeds as high as 221 miles per hour. Drivers can expect high end technologies such as adaptive suspension and F1-Trac traction control for maximum road dominance.
The Enzo Ferrari is a street legal experience that brings all the exhilarating thrills of Formula 1 performance.
See more: Ferrari Enzo Photos, Ferrari Enzo Technical Data