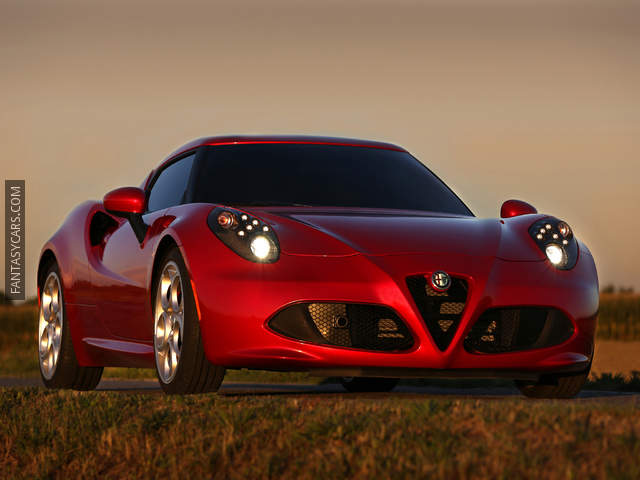 You know we love the Alfa Romeo 8C but perhaps a limited production car with a 6-figure price is not the ideal vehicle to get Alfa Romeo *really* back on track. Well, guess what? The Alfa Romeo 4C is exactly that. The car that HAS GOTTEN Alfa Romeo firmly back on track!
Think of the 4C as a cross between a Porsche Cayman and a Lotus Elise and you'll start getting the ingenuity of the concept. Expect the same Alfa Romeo quality with construction and technological inspiration drawn from the highly successful 8C Competizione. The same 4C nomenclature applies to this all aluminum 4 cylinder 1.75 litre direct injected turbo engine that can dish out 240 Hp @ 6000 RPM. Combine that with a dual dry clutch six speed transmission, and the light weight frame and body to get an impressive power to weight ratio of 0.33. The result? The Alfa Romeo 4C is a sports coupe that can do 0-60 in just 4.5 seconds with a top speed of 160 miles per hour!
The 4C is configured with a mid-engine rear wheel drive set-up without power steering to improve road feel and add excitement to the handling experience.
Alfa Romeo has a reputation for producing gorgeous vehicles and with the incredible success of the 4C, it's a good thing they didn't limit production with this one...
See more: Alfa Romeo 4C Photos, Alfa Romeo 4C Technical Data